20 Oct

Posted By
0 Comment(s)
2146 View(s)
Recipes
Greek Inspired Couscous Salad (scroll down to see the other recipes)
Looks and tastes amazing and ready in 10 minutes! Packed with the flavours of a traditional greek salad, this greek couscous could be a side dish or served on it's own for lunch.
Recipe Source: Sprinkle and Sprouts www.sprinklesandsprouts.com
Prep Time: 5 minutes / Cook Time: 5 minutes / Servings: 4
Ingredients
1 1/2 cup couscous
1 tsp dried oregano
1 tsp dried parsley
1/2 tsp black pepper
1/2 tsp salt
1 lemon
1 3/4 cups hot vegetable stock
1 cup/250g cherry tomatoes
2 tbsp chopped red onion
½ cucumber
handful kalamata olives
1 tbsp extra virgin olive oil
1/2 cup/100g feta cheese
Fresh oregano/fresh mint/fresh parsley to serve
Instructions
Tip the couscous into a large bowl, add the dried oregano, dried parsley, black pepper, salt and the zest of the lemon. Mix gently to combine Then pour over the hot stock.
Cover the bowl and leave it for 5 minutes until all the stock has been absorbed.
Fluff the couscous with a fork.
Chop the cherry tomatoes in half (or quarters) and add them to the couscous along with the finely chopped onion.
Cut the cucumber in half and remove the seeds then chop into small dice. Add to the couscous.
Cut the olives into wedges and add to the couscous.
Stir everything together and serve with the crumbled feta cheese and some fresh herbs.
Enjoy!
Confetti Rice and Bean Salad
This Rice and Bean Salad is packed with healthy legumes rice and veggies. Perfect for weeknight dinner or to bring to a BBQ or to a pot-luck dinner. It's delicious!
Recipe Source: Mel's Kitchen Cafe www.melskitchencafe.com
Prep Time: 15 minutes
Ingredients:
SALAD:
3 cups cooked rice, cooled to room temperature (see note)
1 can kidney beans, rinsed and drained
1 can black beans, rinsed and drained
1 1/2 cups corn
4 spring onions, white and green parts thinly sliced
1 red pepper, seeded, cored and diced
1/4 cup minced fresh cilantro
DRESSING:
1/3 cup extra-virgin olive oil
1/4 cup red wine vinegar
1 tablespoon sugar
1 garlic clove, minced
1 teaspoon salt
1 teaspoon ground cumin
1 teaspoon chili powder
1/4 teaspoon black pepper
DIRECTIONS:
In a large bowl, combine all of the salad ingredients and toss.
In a small bowl, whisk together the dressing ingredients and pour over the salad. Toss to coat.
Chill the salad for at least 2 hours before serving to let the flavors blend.
NOTES: A wild rice/brown rice blend was used for this salad, but Basmati rice is delicious, also. Whatever rice you decide to use, cook it according to package directions and use it in the recipe – you should be good to go!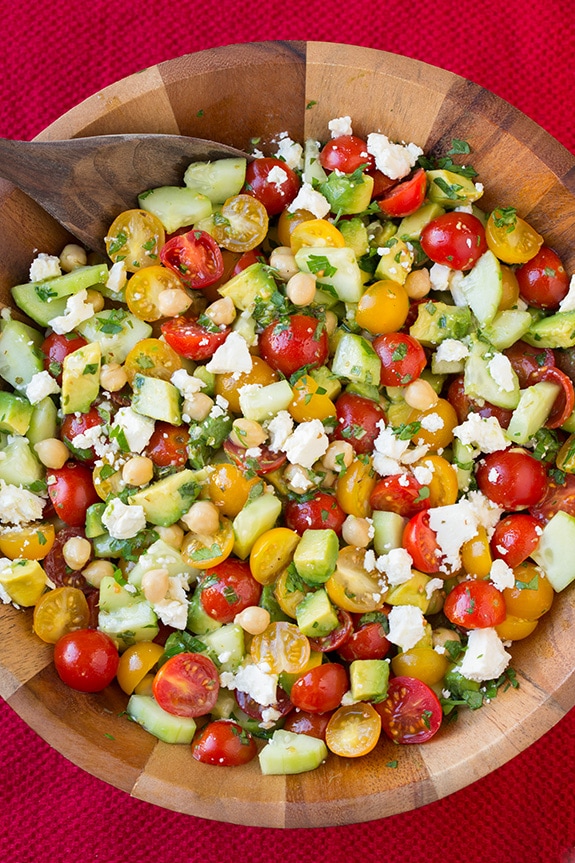 Chickpea Salad with Feta and Greek Lemon Dressing
This is a very summery salad with such vibrant flavors. A simple recipe yet tasty and light.
Note: If you don't want a big salad you can scale this recipe down and use 1 container of cherry tomatoes, 1/2 cucumber, 1 small avocado, 1/2 of the can of chick peas
Recipe Source: www.cookingclassy.com
Ingredients
2 containers red cherry tomatoes
1 container yellow cherry tomatoes
1 can of chickpeas, drained and rinsed
1 1/2 cucumbers , peeled and sliced into quarters
2 avocados , peeled, cored and diced (ripe but semi-firm)
1/4 cup chopped fresh parsley
90g feta cheese , crumbled
Dressing
1/2 cup olive oil
1/4 cup fresh lemon juice
1 tsp dijon mustard
2 cloves garlic , minced
1/4 tsp salt
1 Tbsp chopped fresh basil
3/4 tsp dried oregano
Instructions
In a salad bowl toss together tomatoes, chick peas and cucumbers. Add avocado and parsley and gently toss.
Add desire amount of dressing and the feta and gently toss to evenly coat.
Serve within an hour for best results.
For the dressing:
In a blender (or mixing bowl with a whisk), blend olive oil, lemon juice, mustard, garlic and salt until mixture is well emulsified. Stir in basil and oregano.