06 Jul

Posted By
0 Comment(s)
1206 View(s)
Recipes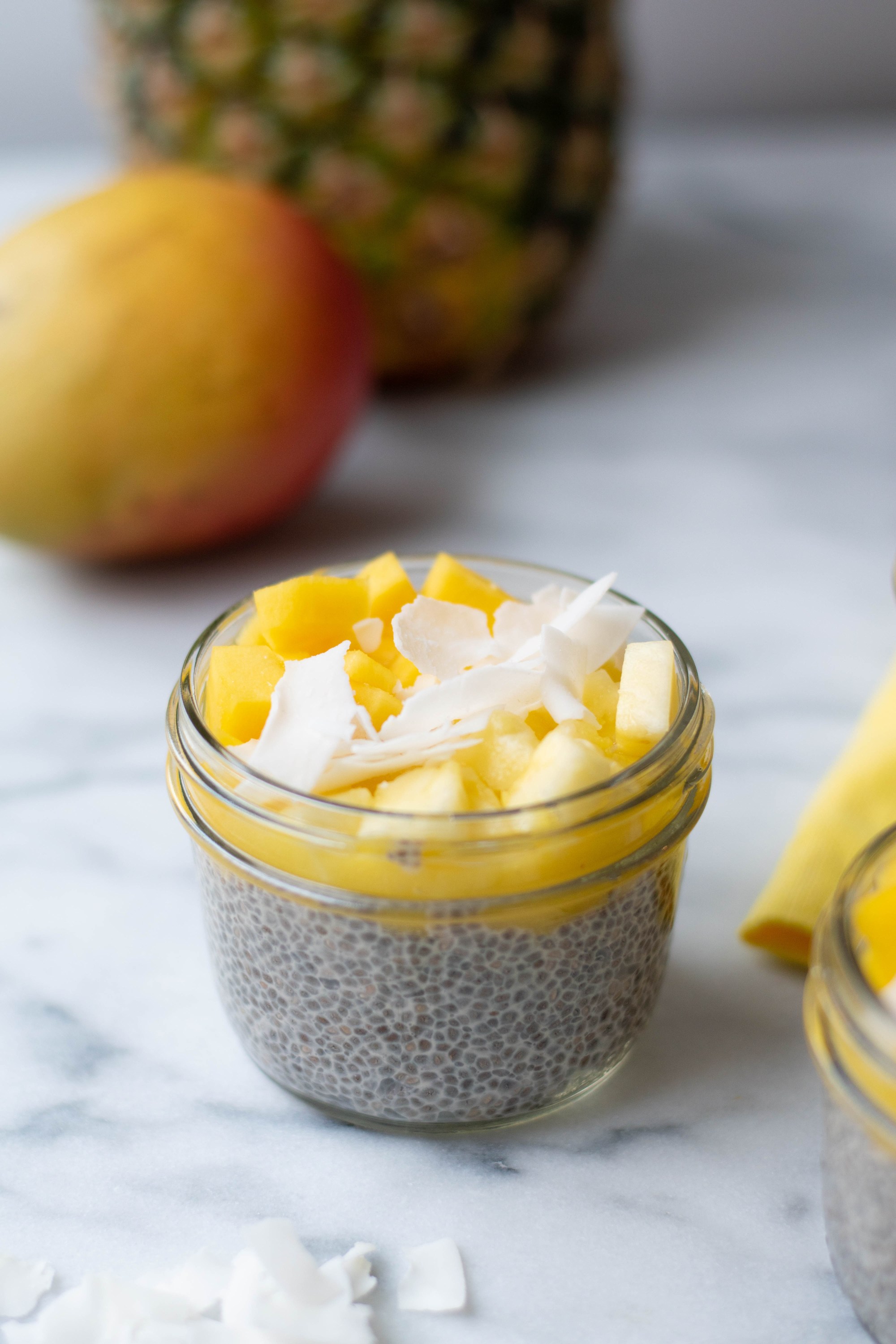 Coconut Pineapple & Mango Chia Pudding
Chia seeds are an amazing superfood packed full of nutritional benefits such as fibre, protein, calcium and magnesium. This recipe is a yummy tropical treat perfect for a healthy breakfast on the go or a sweet afternoon snack.
This recipe is gluten and refined sugar free and depending on whether you use dairy milk and/or honey this recipe can be adjusted to be dairy-free and vegan as well.
Serves: 4 / Prep Time: 10 mins / Set Time: 3-5 hours / Recipe inspired by: With Two Spoons https://withtwospoons.com/
Ingredients:
8 tbsp white or black chia seeds
1 cup water
1 cup milk (dairy, almond, coconut, soy or rice)
4 tbsp pure maple syrup or liquid honey
1 tsp vanilla essence
For the Pineapple & Mango Puree:
1 cup chopped pineapple
1/2 cup chopped mango
Other:
Coconut creme to serve
Coconut chips to serve
Instructions:
Place chia seeds in a bowl with water, milk, maple syrup and vanilla essence and whisk for 3-5 minutes until the mixture has slightly thickened. Whisking ensures the chia seeds don't clump together when the pudding sets. Cover with a lid and leave to set in the fridge for 3-5 hours, or overnight.
Using a high powered blender or small food processor, puree the pineapple and mango until smooth.
Divide the pudding between four jars/bowls. Top with a generous amount of pineapple mango puree.
Add fresh pineapple, mango, coconut chips and coconut creme to taste.
Serve immediately or refrigerate in airtight containers up to 3 days.
Recipe Notes:
This recipe is gluten-free, refined sugar free and can be made dairy free and vegan if you don't use dairy milk.